Expert Committees
At the preparatory phase, Expert committees are formulated and as a result of a number of meetings they will develop possible scenarios and recommendation drafts on each goal and each with a comprehensive expert justification.
One of the priority principles of The FUTURE ARMENIAN is transparency, within the framework of which the organizers and international experts will guarantee full transparency of the Convention work and the process of their preparation.
Armenia-Diaspora Unity
Expert committee
The work of the Expert Committee on Armenia-Diaspora Unity is aimed at identifying the issues in relations between Armenia and Diaspora communities and defining ways to solve them, which will contribute to the formation of relations based on the ideas of stable cooperation and mutual assistance. Renowned Armenian Diaspora studies scholars and experts, as well as representatives of other scientific and practical circles related to the topic, take part in the work of the committee.
Historic Responsibility
Expert committee
The Expert Committee on Historic Responsibility discusses the ideological and practical issues of the historical responsibility of the Armenian people, and also defines the possible ways of ensuring intergenerational responsibility. Renowned historians, political scientists and other specialists from both the Homeland and the Diaspora are involved in the work of the committee.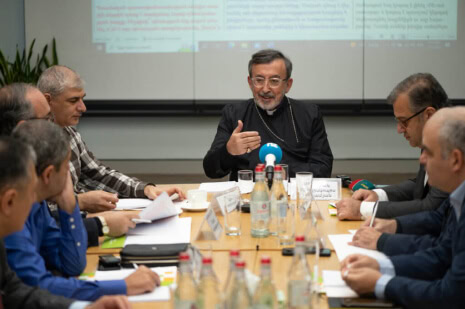 Growing Population
Expert committee
The work of the Expert Committee on Population Growth is devoted to the discussion of possible solutions to the demographic problems of the Republic of Armenia. The discussions of the committee are dedicated to developing ways of increasing the population, studying the state of affairs around migration and developing policies and possible scenarios. Representatives of various international and local organizations, together with demographers and other experts from scientific circles, participate in the work of the committee.